Ramblings | January 2, 2017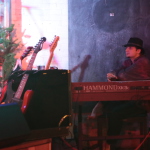 With 2017 just out of the starting blocks, it seems a good time to round up some recent news and reflect on 2016.
One of the biggest ongoing stories of 2016 was the deaths of many iconic musicians, starting with Bowie in January, but the more positive side to it was the amount of good new music coming out in the prog world. It really feels like the scene is thriving creatively (if not necessarily financially just yet). Of course we also lost Prog magazine, which went into administration with the rest of TeamRock. Anecdotally it does seem as though there was enough of a market for Prog to find a way to make it profitable and that it was caught in the fall-out from the failure of the larger Team Rock business. Another pointer, perhaps, that trying to treat a scene like prog as an interchangeable part of a wider commodity portfolio is a mistake, but these are topics for another post.
Apparently, one of the best releases in 2016, according to both ProgRadar and Progzilla's broadcaster The Ancient One, was Patchwork Cacophony's Five Of Cups! Well needless to say I'm honoured. The reviews the album's been getting have been really positive though, as always, I'm finding it very hard to get coverage. Fireworks Magazine, ProgRadar and ProgArchives have all carried some good reviews and I believe there are more in the offing. At one point it sounded like I was going to get reviewed in Prog magazine which would have really capped my year, but of course  Team Rock's demise will mean that doesn't now happen. Being listed in some "Best of 2016" lists was an unexpected bonus though and I'm thrilled to be included, not least of all given some of the stellar company that puts me in there.
Talking of stellar company, another piece of news from 2016 was that I've been invited to join Gandalf's Fist's live line-up on keys in preparation for their gig at the HRH Prog Festival in March. We're playing a 90 minute set and there's a lot of material for me to learn, and all of it bar the last week will be learned in isolation, culminating in us all turning up to a rehearsal studio for a week in March to shake hands, introduce ourselves, and stick all the parts together.
It would have marked the first time I'd been on stage since Fusion Orchestra 2's last gig in 2015, but for a last minute invitation to guest on keyboards at Dave Press's Press Gang gig just before Christmas. Despite being mainly (figuratively and literally) in the background on this one, it was great fun and all being well I hope to play with them again this year.
So, gazing ahead into 2017, what's in store? Well, the Gandalf's Fist gig at HRH Prog Festival is clearly the most set-in-stone major event. I have a couple of collaboration recordings kicking around which need finishing off, and indeed collaborations will be a key theme for this year. So, no new Patchwork Cacophony album this year, but work is ramping up on Broken Parachute's second album, and so far it sounds a lot more proggy than the debut. I've guested (very discreetly) on a track on another album which is due to be released this year — more on that when it's announced — and there's a few other people I'm hoping to work with in some shape or form. Maybe this year will be marked by a scattering of single-track and EP style releases? We'll see.
In any case, it's looking like being a varied and exciting year musically.
|
Flattr this!
---
---