Releases | March 30, 2017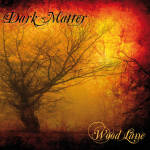 A quick (belated) post to say that Dark Matter, a duo comprised of Gandalf's Fist drummer Stefan Hepe and Dave Gilbert (guitars, bass, vocals) have released their second album, Wood Lane.
Dark Matter's sound is reminscent of early Sabbath in their more laid-back guise, but still featuring some crunchy riffing and Stefan's muscular drumming.
And as it happens, I snuck in a piano line on the moody, atmospheric title track.
|
Flattr this!
---
---