News | October 17, 2016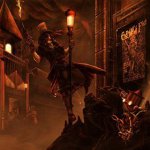 Well this blog has been silent for quite a while, but there's been a lot going on behind the scenes.
The first piece of news is that I will be joining the might Gandalf's Fist for their set at the HRH Prog Festival on 19th March 2017.
Following on from their monumental release earlier this year, The Clockwork Fable, they were invited to headline the second stage on the Saturday night. They've asked me to help out on keyboards and seeing as I was planning to go anyway it seems like a good way to guarantee a decent view of the band. Secretly, I was also truly honoured to be asked to be part of this event.
To complete the live line-up they've also enlisted the help of Keri Farish to handle the female vocal parts.
|
Flattr this!
---
---