Ramblings | May 17, 2010
I could never really pick an all-time favourite singer. One week it might be Freddie Mercury, another it might be Ian Gillan. But no matter what, if you'd asked me for my top three singers at any time, Dio was a permanent fixture in that list, and often at the top.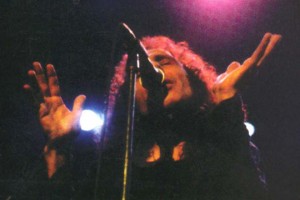 I first noticed his singing on Stargazer. I'd bought a Rainbow compilation album and it was something of a departure from me — much heavier than anything I'd listened to before. But I was interested in Cozy Powell's drumming, having seen him recently with the Brian May Band. But Dio was the stand-out from the album. His lyrics struck me as very vivid, and with his delivery on them in particular they were much more part of the character of a piece than I was used to. And that voice. Soaring, high, powerful but with such depth and roughness.
A couple of years later I saw him touring with his own band, Dio. It was during the Angry Machines tour and I wasn't a fan of the Tracy G driven style, but I thought it was worth seeing him anyway. I wasn't mistaken. I stood at the front and though I was prepared for his voice, I was astounded by his presence on the stage.
Between then and now I've heard many other things he's done, from his early work with Elf, through the Black Sabbath days and, one of my favourites, his performance of Sitting In A Dream on Deep Purple's Live At The Albert Hall album. The voice that many regard as the definitive heavy metal voice of his era is still capable of a beautiful sweetness.
I saw him once more, fronting Heaven and Hell in Brighton about 18 months ago. I said it at the time and I'll say it again now: it was one of the best gigs I've been to. His voice had lost a little of its power, true, but it was still streets ahead of most singers, and he'd developed new nuances and tricks. He was still a powerhouse on stage and absolutely mesmerised the audience.
He was, and will continue to be, an enormous influence on singers and musicians everywhere.
RIP, Ronnie James Dio.
Tags: dio
|
Flattr this!
---
---