News | Releases | December 19, 2014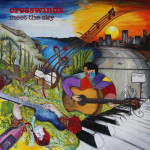 Marcus Taylor and I seem to have managed a repeat of last year's unintentional trick of releasing two albums in sync. Last year it was Fusion Orchestra 2's Casting Shadows and Broken Parachute's Down Is The New Up. This year while I've been getting Patchwork Cacophony out the door, Marcus and long-term musical partner Joe Wee have released an album under the name Crosswinds.
Meet The Sky is a folky, funky, jazzy, singer-songwriter mix of tracks featuring Joe on vocals and acoustic guitar and Marcus on electric guitar and production. I snuck in to deliver a few backing vocal parts here and there, along with David Boardman and Dave Leon, and drums are handled by Matt Snowden (who also played on DITNU).
Tags: crosswinds, marcus