Releases | Uncategorized | October 22, 2015
Marcus Taylor's Kashgar album has now been released. I've contributed keyboard parts and was even inspired to join in on some of the konokol (Indian scat vocals).

Born from the restless vision of guitarist-composer Marcus Taylor, Kashgar is a unique musical statement. Eleven closely crafted tracks weave together jazz sensibilities, a classic rock edge and an exciting range of world influences to create an encompassing and innovative album. From dramatic Indian rhythmic passages that invoke the Mahavishnu Orchestra to fiery guitar-Hammond exchanges that would fit comfortably in the mainstream of progressive rock, Kashgar presents a refreshingly innovative take on the future of jazz-fusion.
The album is available digitally on iTunes, Spotify, Amazon and the usual online retailers and physical copies will soon be available from Patchwork Studios.
Tags: kashgar
Uncategorized | June 11, 2015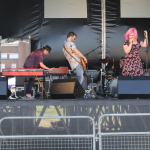 Last weekend Fusion Orchestra 2 played a set at the Dagenham Roundhouse Festival. Envisaged as a celebration of the musical heritage of the old Dagenham Roundhouse, the festival played host to a set of tribute bands to various acts who had played the venue during its heyday.
Of course, Fusion Orchestra (with Colin at the helm), were one of the bands who had actually played at the Roundhouse and so the organisers were keen to have us involved.
The set was short, consisting of Sonata In Z, Secret Shadow and Skeleton In Armour, but the band went down very well and the festival was very well run and it made playing there a pleasure.