Albums | Reviews | May 26, 2013
Deep Purple have, after much speculation, released a new album called Now What?! And to cut to the chase it's a good one.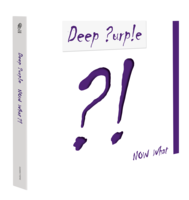 The past few releases have all had some great moments on them, but also had tracks I tend to skip. As something of a devotee to the album format, skipping tracks is a bad sign for me, but in some places I felt that they were sleepwalking. Playing by numbers.
Now What?!, for my tastes, doesn't have a bad track on it. It's quite proggy in style, but without losing sight of the rock. It doesn't stray into self-absorbed concepts or forget that it's an album of songs. It's understandably dedicated to the late Jon Lord and following on from the pattern of the last few, the keyboards are very prominent and in places, very Lordesque. As much as I admire Don Airey as a keyboard player (and some of his work on Bananas was blindingly good) I've also felt that he's never quite had the majestic touch in Purple that Jon Lord brought. With this album I'd say he's as close as anyone is likely to get, and he yet he brings a lot of his own character too. It works, and Don's really claimed the keyboard stool now.
The rest of the band are in fine form, and producer Bob Ezrin (credited as co-writer on all tracks) has clearly brought a lot to the party too. Gillan's voice is not the same as it was in 1970, but he sounds like he's made peace with that and the way he sings on this album really works. In fact it goes for the whole band: despite the talk of a "return to classic form," I'd say this is an album made by musicians who've stopped trying to recapture glory days and styles and are instead focused on what they're doing now. Yes, parts of it hark back to the Machine Head era, but plenty more is forward looking and different.
The album opens with bass, guitar and vocals, gently laying out A Simple Song. Before long, there's an abrupt gear (and key) change and we move into a solid rocker. Some very nice and very Purple Hammond work, but the thing that really caught my ear was Gillan's vocals. Here we have the uncommon (to Deep Purple) sound of layered harmony vocals. This is repeated all through the album and unlike on 1993's The Battle Rages On, I think it really works here.
Weirdistan is a solid, menacing track graced lyrical Gillanisms, spacious verses and big choruses. There's a Minimoog solo using the sort of slightly out of tune weirdness that Keith Emerson occasionally uses, and
Out Of Hand opens with a dramatic synth string descent and the track opens out into another sequence I would describe as "menacing". Gillan is on form here too. Good, open chorus which wouldn't have been out of place on Abandon, if Abandon had been on steroids.

Hell To Pay is a fairly straightforward rocker which would be just another catchy rock track were it not for the addition of two great solos. Don's Hammond solo in particular (strangely missing from the Youtube preview release version) is a real highlight of the album. There is a very pronounced nod to Jon Lord in the early stages but then it morphs into a more Keith Emerson style thing particular in the glissandos.
Body Line is my least favourite track. It's a perfectly serviceable swing-rock sort of thing with a bit of a Rosa's Cantina sort of feel but heavier. It's the closest the album gets to a "So What?" number for me, but it's one of my wife's favourites though, and I certainly wouldn't say it's a bad track. It would do well live.
Above And Beyond and the following two tracks are for me the highlight of the album. The intro is… have I used the word menacing yet? Well, that plus majestic and it's given time and space to breathe before the vocals come in. The verses remind me slightly of The Aviator from Purpendicular, but the general shaping of the track is very different and much more dramatic.

Blood From A Stone alternates between electric piano work which hints at Manzarek and a crushing heavy chorus. Gillan's vocals take the starring role here though, really breathing life into the track, from the brooding verses to the heavy (and short) chorus.

The intro to Uncommon Man was widely previewed as part of the publicity material. It's a long free-form instrumental passage that builds from a classic laid-back Morse style solo into an ELP-esque fanfare. There's a good song in here, but again the solos are really what makes this and the stripped back keyboard solo section which leads to the climax is very nice.
Après Vous is another decent rocker which is transformed by the guitar and keyboard solos we're now almost getting used to being spoiled by. Here Roger Glover's bass work drives the instrumental section almost uncharacteristically sticking its head up and taking centre stage at times and the two soloists build towards the sorts of trade-offs we often see live.
The first single from the album, All The Time In The World, was everything I didn't want it to be. While there was nothing awful about it, it was an unrepresentative and slightly ballad which presented the band in a way that I felt would put potential fans off while drawing in people who would then be disappointed that the rest of the album was very different. Here, in its place on the album, I love it. Steve Morse's solo is a beauty, and the song's just what we need after the last few tracks and it contains phrases and lyrics I often find running through my head for no good reason.

And so finally we get to Vincent Price, a storming, horror-themed, over the top slice of tongue in cheek bombast. We get clichéd church organ intro, dramatic choirs, weird oohwaaa noises from a slide guitar and lyrics like "Mad Doctor Phibes gonna eat my brain." Fabulous fun stuff to finish off the album in style.

Well I said finally, but then there's It'll Be Me. I understand this is the near-mandatory "bonus track" which graces so many albums now. It's a bit of fun — a Jerry Lee Lewis cover which the band do a creditable job of,  but I think it detracts a bit from the album. It's the sort of thing I love to see as a B-side, or as a download from the website, but here it feels a bit of a let-down, and I have doctored my playlist for the album to remove it unless I go looking for it.
On the whole I think the album's superb. As much as I've concentrated my comments mainly on Airey and Gillan, everyone's really on form. People are debating whether it's the best album since Purpendicular or Perfect Strangers. Well for me, Purpendicular was better than Perfect Strangers and so the question is "best album since Purpendicular or…" well, what? Stormbringer? Burn? Both contain some great (truly, truly great) tracks, but both are also hit and miss at times. I think at this point I'm going to weasel out of this question and say it's a damned fine album, up there with their best, but refrain from trying to decide whether the stellar highlights of Burn trump the consistent highs of Now What?!
And in answer to the question, guys: Now What? Now have the self-belief to play a substantial quantity of it live, and then perhaps think about that 20th album and when looking for inspiration, don't feel you need to go back to Machine Head to recapture the past. The present, like this, will do quite nicely.
Tags: deep purple
|
Flattr this!
---
---